Welcome to SPSCC Health and Wellness! The college is excited about promoting and creating an environment that supports your health and well-being and offers you healthy choices and resources. SPSCC offers Walking Paths, Flu Shot Clinics, Lunch & Learn Brown Bag Workshops on Finances, Retirement Planning, Nutrition, and Stress Management, Health & Wellness Fairs, and many more activities throughout the year.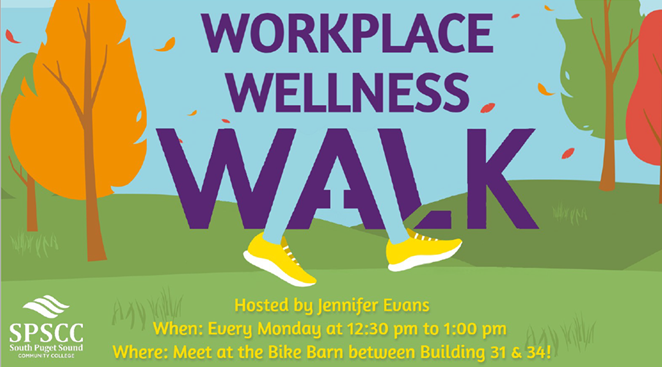 Washington State Employee Assistance Program (EAP)
South Puget Sound Community College is committed to assisting our employees by offering Employee Assistance Program resources to help employees and their families cope and thrive through the financial and emotional challenges that we all face. The EAP provides you and your family with information and resources to find positive outcomes in difficult times.
The EAP can help with work, home or family life issues and everything remains confidential. To log into Work Life below, use the password SPSCC.

Resources
Employees can contact the EAP at any time for assistance. Using the service is no cost to the employee, and all contact is held confidential and is not reported to the employer.  For additional information please contact the Employee Assistance Program directly at 360-407-9490 or toll-free at 877-313-4455.